Pain Clinic
Centre Hospitalier du Valais Romand
If you think you suffer from chronic pain or you have an acquaintance or a family member who has chronic pain... then you are on the right site.
On this site, you will find information regarding chronic pain and various possible therapeutic approaches.
Many people suffer from chronic pain, most do not know that appropriate treatments exist and very few benefit from treatment in a specialised centre.
The Pain Clinic is part of the anaesthesiology department and the doctors who work there are all anaesthesiologists with extensive training in pain treatment (SSIPM and/or SPS).
Our Pain Clinic offers a global approach to your pain thanks to a multidisciplinary and specialised team. After an initial appointment and an examination lasting approximately 1.5 hours, we will offer you a treatment plan that could provide relief. We also work with many other disciplines and sometimes we will send you to another specialist to complete the assessment. Often, we like to ask our psychiatry team for an opinion, because pain also affects behaviour.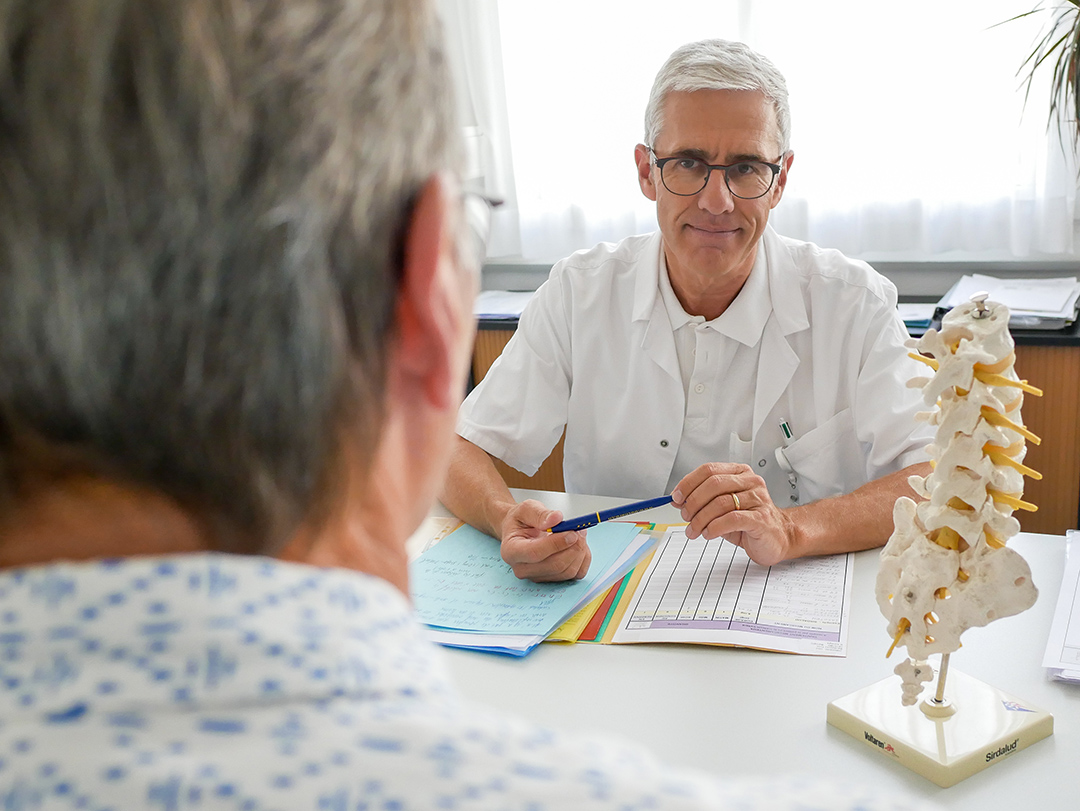 What is chronic pain?
Chronic pain is pain defined by a duration lasting beyond 3 months. There are many causes.
You are not the only person suffering from chronic pain! Many people are in the same situation as you.
Pain can lead to numerous consultations with a general practitioner.
Pain can also cause numerous work stoppages.
It can even cause depression, anxiety and sleep disorders; conversely these can also contribute to the appearance of pain.
Pain can have a negative impact on your family and professional life.
Pain is a social phenomenon, both in terms of the number of people affected and the importance of the issues it raises.
Here are some examples of the types of pain we can treat:
Back pain
Neck pain
Headaches
Phantom pain after limb amputation
Pain following shingles
Pain after an accident
Nerve-related pain (diabetes, chemotherapy, etc.)
Fibromyalgia
Cancer pain
etc.
We also carry out withdrawal treatments or readapt certain analgesic treatments. Our approaches also take into account complementary medical treatments such as hypnosis, acupuncture, etc.
Available treatments
Non-invasive method
Drug treatments

Depending on the intensity of the pain, there are 3 levels of pain treatment in terms of medication.

Level 1

(for mild pain)

Level 2

(for moderate pain)

Level 3

(for severe pain)

There are three main categories of pain:

Neuropathic pain: pain linked to nerve damage.
Nociceptive pain: it is caused by inflammation or mechanical damage to tissues.
Nociplastic/central type pain: pain due to a disruption of perceptions in the brain, without having any nerve injury or tissue damage

Depending on the intensity and type of pain, we will offer different and adapted treatments:

We will try to avoid Level 3 medications (morphine derivatives), because they can become ineffective over time and create dependence.

We will favour alternative molecules, such as certain antidepressants or antiepileptic drugs for neuropathic pain, because these molecules act on the nerves.

For neuropathic or generalised pain, we can offer you Ketamine or Lidocaine infusions. They are sometimes also used as support during opioid withdrawal. These are carried out in our centre and last approximately two to three hours.

Other treatments

Physiotherapy, physical reconditioning

Physiotherapy helps promote physical activity and recondition the body. It is important to maintain physical activity in the case of chronic pain. Indeed, the patient often has the false perception that activity can worsen their condition, which is rarely the case. Physiotherapy allows you to reclaim your body despite the pain.
Back specialists teach the patient how to avoid triggering a painful attack in the event of lower back pain, for example.

Hypnosis

Hypnosis is a promising additional tool to make the patient active in self-managing the intensity of their pain and the related emotions. It can support the process of introspection in order to better understand the origin of certain pains and to strengthen the patient's resistance to it.

TENS (Transcutaneous Electrical Nerve Stimulation)

Electrodes are stuck to the skin in the painful region, or depending on the case, along the path of the nerve causing the pain. They electrically stimulate the area or nerve at low intensity and change the perception of pain. This treatment delivered using a small device can be performed at home or at work several times a day.

Occupational therapy

The purpose of occupational therapy is to maintain people's ability to act. The occupational therapist supports and accompanies people who are restricted in their capacity to act or threatened by such limitation, following an accident, illness or for psychological reasons.

Evaluation psychologique

Sometimes we refer our patients to a psychologist or psychiatrist, especially if chronic pain is putting a strain on you or those around you. Accepting that you have to live with your pain helps you to manage it better.

Acupuncture

Acupuncture is used to treat a number of painful conditions, such as migraine, back pain, tendinomuscular pain, ligament pain, etc.

Acupuncture is a popular and effective complementary medicine treatment method.

It is indicated for chronic pain such as arthritic osteoarticular pain, headaches, spinal pain and various injuries (sprains, muscle tears, tendonitis and bursitis).

Acupuncture is also effective for tobacco addiction, and can help with functional digestive disorders, premenstrual and menopausal disorders, sleep disorders, etc.

Chiropractic

Chiropractors intervene on the neuro-musculo-skeletal system, for example in cases of torticollis, back pain, osteoarthritis, etc., using manipulations often carried out with the hands.

"Living with pain" group

In this group, you'll talk about your pain with other people dealing with chronic pain. You will be accompanied by a specialist nurse and a psychologist from our centre. The aim of these discussions is to introduce new pain management tools (self-hypnosis, relaxation, etc.) to help you relieve your pain on a daily basis and live better with it.

The group meets once a month at Martigny Hospital. For full details, see the attached flyer.

Please register before each session.
Interventional treatments
Infiltrations

Certain types of pain may benefit from an infiltration. Infiltrations are often performed with local anaesthetics with or without cortisone. Cortisone has an effect on the nerves and joints especially if there is inflammation. Infiltration allows these medications to be placed at the precise location of the pain.

Frequently, infiltrations are also used for diagnostic purposes. That is to say, we use them to prove that the pain comes from a certain place so that we can subsequently treat the area in a precise manner with another technique (which sometimes can also be surgical).

Some examples of infiltrations:

Epidural infiltration
Infiltration of the joints of the spine
Infiltration of body joints: shoulder, knee, hip, etc.
Nerve infiltration (ribs, head, others)
Etc.

These infiltrations are carried out with the help of ultrasound or radiology to clearly identify the various painful structures.

In principle, all these procedures are performed under local anaesthesia and are not very painful. However, in the event of anxiety or excessive pain, we can offer the patient light sedation; the doctors at the Pain Clinic are all anaesthesiologists.

Radiofrequency thermocoagulation and cryoablation

After carrying out tests with local anaesthetics, it is possible to partially burn the nerve responsible for the pain using heat or cold. This procedure is performed with needles and special devices. It allows for a reduction in pain in the long term. Unfortunately, the destroyed nerves tend to grow back and the procedure sometimes has to be repeated after a few months.

The procedure lasts approximately one hour.

Using X-ray or ultrasound imaging, the doctor guides the needle to the painful area. After stimulating the nerve responsible for the pain with electricity to be sure that the needle is in the right place, the latter will be heated or cooled in order to interrupt nerve conduction to the painful area.

Spinal cord stimulation

Sometimes when all other treatments have failed and in the case of chronic neuropathic pain (irritation or damage to a nerve), spinal cord stimulation can be tried. It involves implanting an electrode near the spinal cord or nerve to stimulate them. The pain felt by the patient will be "modulated" by this sensation and therefore alleviated. First, a test electrode will be implanted before putting in the final stimulator. The patient can then adjust the intensity of the stimulation themselves, using a remote control, which will eventually be felt as a slight tingling.
There are other types of stimulation based more or less on the same principle such as: direct stimulation of a nerve root at the level of its exit from the spinal column or of a more peripheral nerve. Here too, the message that will be sent by this nerve will be modified.
Electrostimulation of the sacral roots is a recognised therapy in the context of urinary (incontinence, overactive bladder) and defecatory (incontinence) disorders. Its application in the area of pain is possible in connection with certain causes of pelvic-perineal pain.

Below is an explanatory video regarding spinal cord neurostimulation. Depending on the type of neurostimulation sought, we use equipment from different companies, such as Medtronic, Abbott, Nevro, Parimed, etc.

Intrathecal pumps and epidural catheters

This therapy allows pain to be treated directly by diffusion of drugs onto the spinal cord (e.g. morphine, clonidine, ziconotide) or onto the nerves (local anaesthetics).

It consists of implanting a catheter in the intrathecal space in the lumbar region of the back. At this location, there is no longer any spinal cord and therefore no risk of injury. The catheter is then pushed into this space to the necessary height to allow medication to be deposited on the cord and on the nerves responsible for the pain or spasticity. It is then connected to a pump equipped with a reservoir implanted under the skin in the abdominal region. The latter will allow the drugs to be infused to the region of the spinal cord and nerves where the catheter was placed.

The drug infusion is completely managed by the pump, but the patient can administer additional doses via a remote control. The medication reservoir should be refilled regularly (every 1 to 2 months) at the Pain Clinic.
Team
Dr Eric Weber
(Head of the Pain Treatment Centre)

Dr Anne Catherine Ducrey Erard
(Neuromodulation referent)
(Medical referent)
(Hypnosis)

Dr Andrea Zanetta
(Shoulder and osteoarticular pain)

Dr Carolin Rossbach
(Psychiatry and psychology referent)
(Hypnosis)

Dr Alexandre Forneris
(Continuing education referent)

Dr Florence Sellam
(Acupuncture)

Dr Bénéndicte Van der Vaeren
(Psychiatrist)

Jana Pasuljevic
(Psychologist)

Medical training

The Pain Clinic is offering a training position in chronic pain for an anaesthetist or an anaesthesia fellow at the end of his training. In principle, this is a one-year rotation as part of a commitment to the CHVR anaesthesiology department. In exceptional cases, we also hire external doctors directly.

It takes around 2 years to complete the advanced training course in pain management (SSIPM and/or SPS).

During their time in our department, trainee doctors will familiarise themselves with the pathologies encountered in chronic pain management during outpatient consultations, and will perform infiltrations under supervision. He or she will also take part in acute analgesia rounds for hospitalised patients.

Applications can be made directly to Dr Eric Weber (Head of the Centre) or to Dr Sina Grape (Head of Anaesthesiology).

Our team of nurses also specialise in pain management. Some of them have in-depth training in pain management or hypnosis.

They can sometimes answer your telephone calls if you have any questions about your treatment. They will often act as a link between you and the doctor.

Vanessa Varone, Sonia Richiedei, Anne-Sophie Jouvet , Djamila Filali

Our secretaries welcome you on arrival.

They manage your appointments and always try to do their best to accommodate you and find a solution to any organisational problems.

Stéphanie Fournier-Rimet, Sara Aubert, Laurence Vocat
CONTACT AND INFORMATION
Contact
In principle, for a consultation, you must be referred by your general practitioner.
Given the numerous requests, the deadlines may sometimes seem long to you.
Phone: 027 603 95 70
Information for general practitioners
Patients can be referred to us by e-mail.
You must also send us all the investigations already carried out, such as MRI, specialist consultations (neurologist, rheumatologist, etc.). The same goes for laboratory results, if you deem it necessary.
Our secretary will be happy to help you.